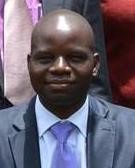 JOHN S, MPONDA, MScPharm, BPharm (Hons), DipPharm, DHPEd - Trustee
JOHN S, MPONDA, MScPharm, BPharm (Hons), DipPharm, DHPEd - Trustee 
On the CMST Board, Mr Mponda represents the Pharmaceutical Society of Malawi (PHASOM).
Mr Mponda is a Lecturer at University of Malawi's College of Medicine's Pharmaceutical Sciences and a part-time Lecturer in Advanced Pharmacology for the Masters in Nursing program at the Kamuzu College of Nursing.
He is also a private practicing pharmacist managing Michiru Pharmacies Limited, a subsidiary of Medical Aid Society of Malawi.
He holds a Master of Science and a Bachelor in Pharmacy and is author and co-author of over seven (7) publications locally and internationally.