QUALITY ASSURANCE
 QUALITY ASSURANCE UNIT OPERATIONS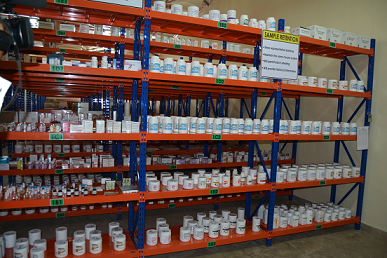 The Quality Assurance Department of the Central Medical Stores Trust is responsible for providing confidence to the citizens of Malawi and all users of public health facilities that all the processes of acquiring medicines and medical supplies, up to the time they are delivered and received by the health facilities, assure the availability of Good Quality, Safe and effective products.
Upon receipt from suppliers, all medical supplies are therefore inspected for conformity to specifications. The medicines are sampled and quarantined pending Quality Control (QC) by the Pharmacy, Medicines and Poisons Board's Quality Control Laboratory on whose clearance CMST bases all deliveries to health facilities.
In CMST, Quality Assurance involves the following steps:
All medicines and supplies procured by CMST come from manufacturers that have been inspected and approved by the Pharmacy, Medicines and Poisons Board (PMPB to have met international and local current Good Manufacturing Practices (cGMP)
All CMST products are tested in the laboratory and approved before distribution to health facilities. Those that do not comply with the testing requirements are rejected and destroyed.
All medicines and medical supplies are stored in warehouses that meet good warehouse and storage practices capable of preserving quality throughout the products' intended shelf life
Enforcing good distribution practices that ensure the integrity of the quality of products during transportation to health facilities
Ensuring that procurement processes are well planned to bring quality products, approved by appropriate committees and also comply with the Acts and regulations of the Government of Malawi before contracts are awarded
Performing quality review activities such as self-inspection or internal audits to ensure Quality Management Systems compliance within operational units
Reviewing product manufacturing dossiers and supplier profiles submitted for tender evaluation
Liasing with drug regulatory bodies on product quality issues
Ensuring that appropriate GMP manufacturing controls are implemented in the medicine production unit
We believe that Quality Assurance is a proactive process that measures and approves the quality of each and every business process of CMST departments for the purposes of serving Quality products to the citizens of Malawi.